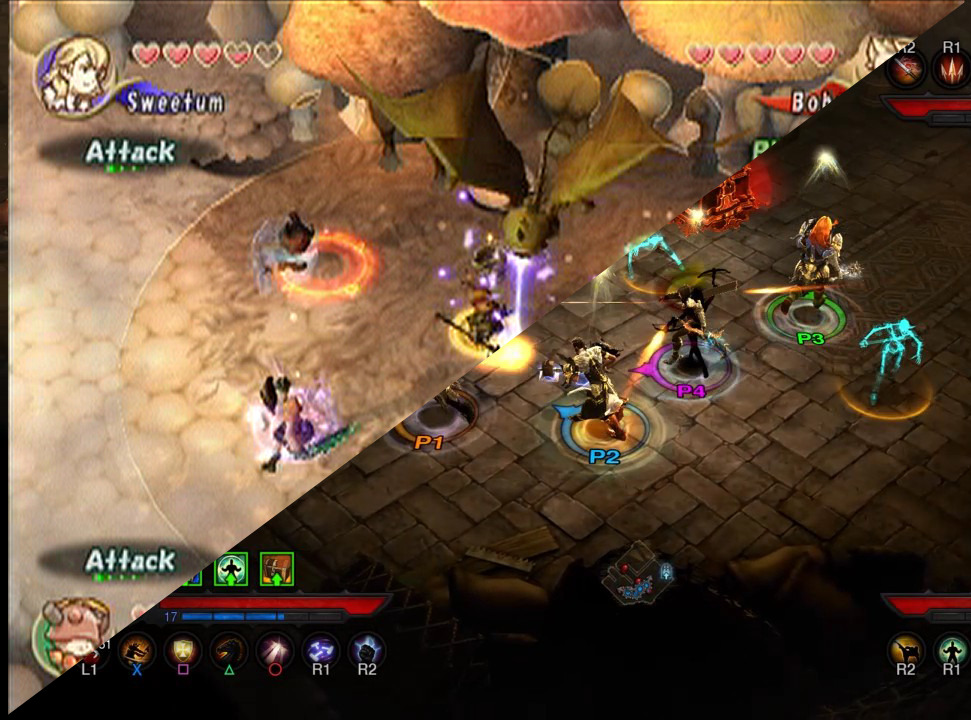 I didn't really read any gaming magazines' commentary on the GameCube when first unveiled, but I imagine it can't have been far from what I thought at the time
"Oh cool, you can connect your handheld to it, everyone gets their own screen then. Wait, I NEED four GBAs and four cables to even play the new Zelda game?"
And then I didn't play the new Zelda game.
Then came Final Fantasy Crystal Chronicles, a game with its own little backstory on how it even came to be on a Nintendo console, which is kinda interesting, but what's more interesting, is that it was a pretty fun game, with some beautiful graphics, super unique music, and a couple of great/annoying mechanics. You had to work together in multiplayer to carry around a chalice to keep the poison air at bay.
As a pure hand 'n slash kinda game, the GBA connectivity seemed like a prime example of corporate greed that would only result in fewer people actually playing the game, because who the fuck could afford all that shit.
Then years later, I was in this sweet little café-bar in Kyoto, Café La Siesta, and played Puyo Puyo while waiting for my meal. It occured to me that I'd love to have my own bar, and in this bar, I would want a GameCube with four GBAs connected to, so that patrons could play Crystal Chronicles while drinking. So I went to various second-hand electronics stores and bought old GBAs and cables, and later got a copy of Crystal Chronicles.
Having finally assembled all the little pieces needed to even fully enjoy the experience, I realize that the hardware setup is the optimal solution, since it was actually available. See, since everyone had a second screen available for their personal use, individual players could manage their spells and inventory without breaking the flow of the game. I love this, and the benefit is immediately apparent.
But just to underline how perfect a solution this was, lets look at Diablo III for the Playstation 4. This is pretty much the same game, but without the chalice-system and without personal screens.
Diablo III is a great game, also on the PS4, but the need for a second screen is immediately obvious, as me and my friends had to completely destroy the flow of the game every time someone had to fiddle with their character.
Even the chalice-system is vindicated, since the couch-experience almost demands that players have a reason to interact with each other both on-screen and on the couch. Very little inter-player interaction seems part of the normal Diablo experience. This never seemed like a problem before. It was still a lot of fun mowing down monsters with friends, every player on their own computer, but still gathered in the same room. But on the couch, the game quickly yearned for a reason for players to work together/fuck over each other. I got the feeling that I was trying to play Diablo III, while 3 other guys were crowding my personal screen. With the chalice-system, we had to communicate and coordinate, quickly depending on each other, cursing the weakest link and desperately trying to work as a team.
Sometimes game hardware seems forced and clunky, introduced only to increase profit, but any development that is based on giving designers more options, can definitely become of great benefit for the players, if the designers are able to communicate these advantages.
Clearly no one managed to do this for Crystal Chronicles, and it is indeed sad that no one remade this game for the Wii U with the second-screen controller interface-conundrum solved with 3DS's. It's all too bad really, but it taught me to keep my mind open for later times when Nintendo added weird hardware gimmicks to their new consoles.