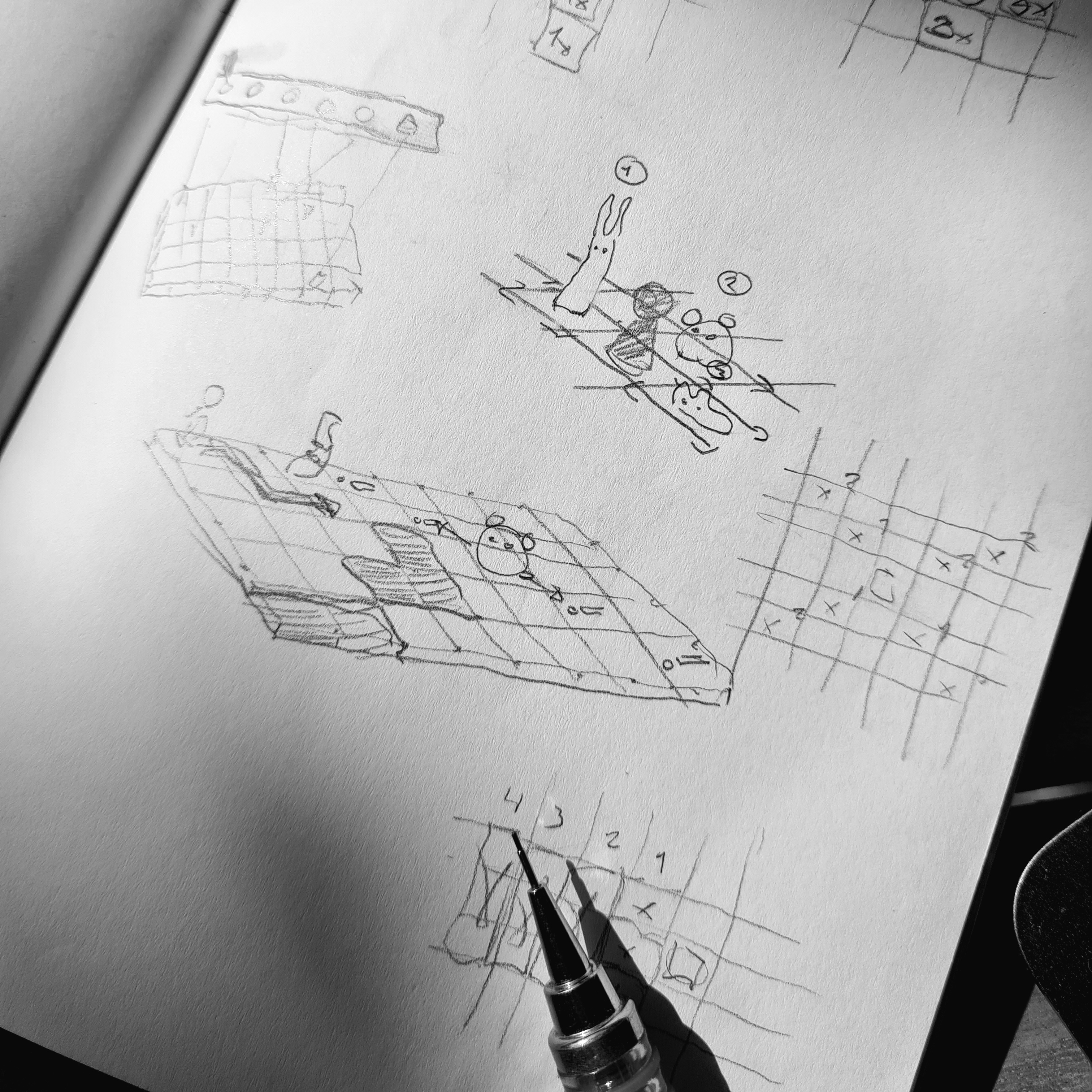 We came to Nordic Game Jam 2023 with an idea: what if we made a real-time, grid-based Sin & Punishment-like, with a Vagrant Story-like upgrade system, narratively inspired by classic cop noir "Strømer" starring Jens Okking, using our own home-cooked 3D engine. Our success was palpable and terrifying.
In 2000 there was a satirical game on the website for the Danish equivalent of the BBC, DR. It was called "Mujaffa spillet", and had you, in the guise of second generation Arab-esque immigrant driving down a street in your BMW, picking up gold chains and condoms (for fucking, of course). In between levels, you'd upgrade your vehicle with speakers and what not. It made me guffaw heartily.
In 1992, LucasArts created X-Wing, and a year later they released TIE-Fighter. Suddenly you were the bad guys.
What if… no. Wait. What if we created a sequel to Mujaffa spillet in the same vein as the X-Wing/TIE-Fighter duo, where we let you be the baddies? If the Arab homeboy was the good guy, I guess the bad guy would be… the cops?
What if our game was a spiritual sequel to 1989 tv show "Een gang Strømer" ["Once a Cop"], which was itself a sequel to 1978 tv show "Strømer" ["Cop"]. Once a cop… always a cop. "... Altid Strømer."
That idiom doesn't exist in Japanese, and by golly I need that Japanese twist. Sasuga Keisatsu means "As you would expect of police".
I've been playing Sin & Punishment 2, Vagrant Story, and Fire Emblem Awakening. There are great lessons to learn from all these games, and mechanics that are woefully underexplored. I've already written about S&P. Vagrant Story is nothing short of painful to interact with today, but so worth the investment. The single-party, dynamic weapon attribute system and Metroid-like RPG setting is revelatory. I don't know if I can improve on what Matsuno has already improved on, but I was gonna use it. Fire Emblem and Advance Wars for GBA have the most pleasant cursor navigation. It should be worshipped. I worship it.
That was a lot of influences at once. We sat down. We had whisky. For three days we coded, composed, cursed, and painted pixel art. It was my least social Nordic Game Jam ever. I wanted to see if this idea could work.
The lore heavy, satirical cop noir story got sidelined, but we ended up with a shmup-y, almost Doom-like action game, where a cute food had to be sawed in half by your shotgun. A shotgun you could dynamically upgrade with pickups that looked like the enemies. I even had my retired cop-dad do voice over for the 100 % authentic experience.
I like this game a lot. I like it a lot more than I expected. I've blasted through it so many times already. Of the games I've worked on, it is by far the most satisfying game to play. We're definitely making more of it.
As for Nordic Game Jam, it's a fun event. The food has really gotten an overhaul this year, and I enjoyed every meal immensely. I don't want to be mean, so I won't delve into the talks. The final presentation format still seems inadequate to me. It works for a loud, stupid game like Sasuga Keisatsu, but for quiet, contemplative, sad, or scary games, I feel like dedicated presentations would still be better.
Submissions I liked were the smart Bac-flip, the beautiful The D'Illest Wizard, the ambitious Lumigro, the moist Sponge. I really want to try more of them. Looking through the submissions, I've really missed out on a bunch.