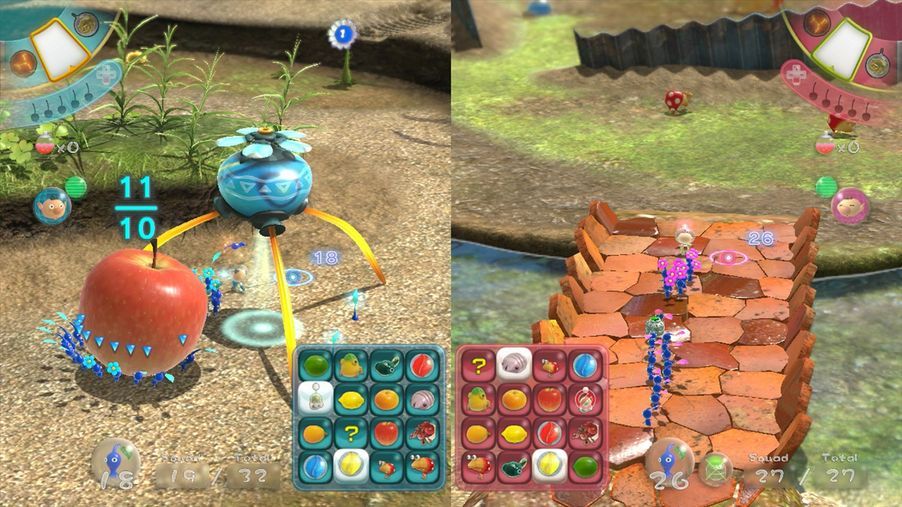 Something strange happened, and the section praising the multiplayer of Pikmin 3 disappeared from every single review, so I thought I'd append it here…
Usually when I play multiplayer in video games, I find that it's either a quite stressful (and rewarding) experience because a high degree of alertness is required at all times, or it's a calmingly mind-numbing experience because I simply go through the numbers, but with friends.
Pikmin 3 showed me it could be different. In the Bingo Battle mode, two players race to collect fruit while fighting wild life and occasionally (often) obstructing each other's progress. But the race to collect fruit and the inability to effectively kill each other, made me experience a quite calm and relaxing competive affair.
In fact, I don't think I've ever experienced a game before that has an actual competitive multiplayer mode I could play when I wanted to relax!
Additionally, there's also a multiplayer mode where you work together with another player to kill enemies or gather fruit. This is one of those cases where the Wii U gamepad shows its brilliance. I and the person I play with take different role depending on our controller:
If I use Wii remote + nuchuck, I become a sort of direct force, hurrying towards known goals.

If I am holding the gamepad, I become the strategist, coordinating our two-man team, keeping tabs on un-collected fruits and planning routes for future improved attempts.
Pikmin 3 is a classic of this generation and a game not praised enough. It gave me Calm Genocidal Multiplayer, and Tactical Local Berry Picking.