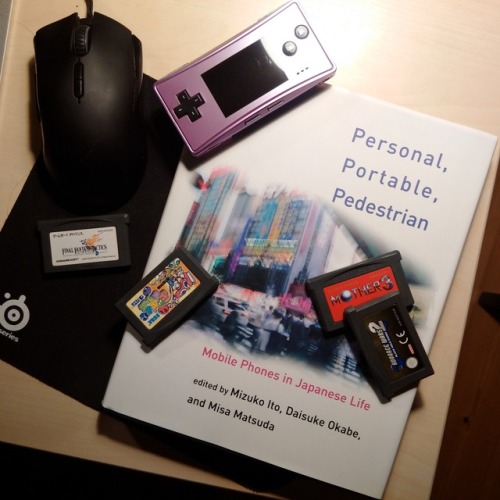 I've been reading a book called Personal, Portable, Pedestrian on how Japanese youth adopted the cellphone, or keitai as the book prefers to call it, since feature phones in Japan worked a bit differently there than other places (email instead of texting, use of internet through i-mode, which was like a better wap internet[1]).
Even though the book is of course, in some ways, obsolete (it came out before smartphones were a thing), it's still really good at showing how cellphones created a new, or altered, technologically augmented social sphere. It's really interesting, and encouraging study into how technology has a different effect once it takes a place in the everydays, and how technology can be cozy. It's even a reminder to not get too scared of how much we might be using our smartphones and tablets, as intimacy is different, but still a real thing, when it happens in virtual space.
Playfulness has changed with technology as well. The games I like, often aren't really meant to be social experiences, and yet shared experiences naturally become common ground and leads to friendship. Game technology in and of itself too, has changed how social space and friendship might be. TVs with video game consoles and controllers plugged in create the couch experience (The ultimate of which I've already discussed) and as far back as Phantasy Star Online, consoles have been an even easier way of staying connected and play with friends virtually.
This last example seems to be the default way of playing socially for many people today. Built-in systems to easily connect, chat and play with friends. With the Switch, Nintendo of course wants to do things differently (as usual), but it will be interesting to see how it works out:
The unpluggable controllers for to create an instant multiplayer device anywhere is a great idea. There's no discussion, it's just great.

Trailers suggest that Switch consoles can sense each other, so two switches means instant four-player multiplayer. Again, this is great.

Online chat is done on a separate smartphone app. What? This seems so counter-intuitive. Why, Nintendo? What's the point? Is the software a resource thief on the Switch?
The last item on that list made me go as far as to think Nintendo might be planning a full-on android phone. It seems weird to need a non-Nintendo device to get the full experience on a Nintendo console/tablet, and it seems weird that there are Nintendo games that can't be played on Nintendo devices. Finally, whether or not Nintendo will keep supporting the 3DS, eventually the 3DS will be over, and a 3DS-2 doesn't make sense when there is a Switch. Phones and tablets aren't the completely same market though, and if the famicom/nes were the Nintendo answer to the PC, and the Switch is first gaming tablet, why couldn't there be a Nintendo Phone as an answer to the smartphone?
What I don't have an idea about, but am really curious to see, would be, what kind of social playful space, could a Nintendo Phone create? What feeling does a more playful device create in such a cozy and personal space?
---
Which was shitty internet, if anyone doesn't know. ↩