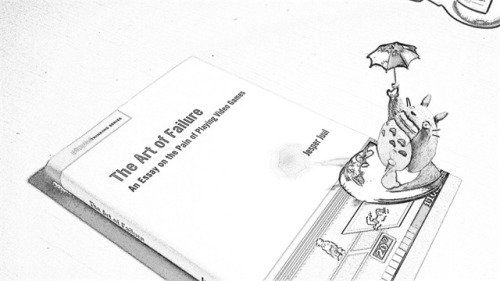 One of my favorite books on video games is Jesper Juul's The Art of Failure.
It's a short academic book written in completely legible language, yet maintains the depth of a thoughtful paper written on the idea of failing in video games.
In Failure, Juul manages to outline a greater understanding of what kind of medium modern video games (anno 2013) are. He draws from many and varied games, from academic experiments to contemporary indie games (Super Meat Boy and Limbo) and triple-A titles (Mass Effect 2 and Red Dead Redemption).
What's important to me, is that Failure is about the games and what the games do, and doesn't devolve into studying people who play games as some sort of separate race, and Failure doesn't make the most important or noteworthy aspect games the narrative, while simultaneously not disregarding how important narrative can be in certain games, or how the idea of failure is skewed in narratively tragic games.
This isn't specifically a guide on game design, which tickles me in the right way, as Failure doesn't try to compartmentalize the creative aspects of design, into stringent boxes of types of games. The different categories that Juul outlines, are instead easy ways of referring back to the subject at hand.
So yeah, a wholehearted recommendation from here: The Art of Failure is an honest and introspective book, that pulls out an easy understanding of what it might important to win a game. Juul is always looking for a complex way of understanding a situation, never settling an easy explanation of simplified analysis.