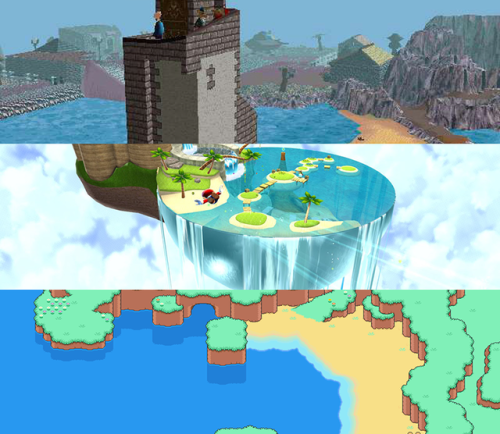 Going full-on nostalgia here, although it is in the name of the creative process for Sodagirl. What should beaches contain in games? What are the best beaches?
They're a weird thing aren't they? Real beaches aren't completely inaccessible to the average person, unlike ancient ruins, magical forests, or cursed dungeons. They have sand or rocks. Water. Some are warmer than others. Perhaps you can get an icecream or long for summer during a winter stroll.
Many games can't really make use of the swimming and sunbathing though. Super Mario Galaxy did it great in Beach Bowl Galaxy: All scuba-koopa diving, relaxing music and beautiful water
Good old Little Big Adventure 2 (LBA2) and Mother 3 both do sort of the same thing as the other. The beach is just for show, to add a feeling of space realness to the game. In LBA2 you even have a romantic walk on the beach with you preggers waifu. Whom you can immediately murder in a horrible murder suicide as soon as you touch water.
The beach in Link's Awakening is hugely important in a narrative sense, and if you're stuck on a puzzle, but otherwise it's rather inconsequential. (That scene though!).
I have other favorites, but that's enough for now.
The beach I imagine and have planned for Sodagirl is supposed to be important. Both size-wise and in relation to the story. I like the holiday feel, and relaxing feel beaches seem to invite. Staring out into the ocean seems to be a big part of it as well, but design doesn't fit well with this. I wonder what I can do to alleviate that.