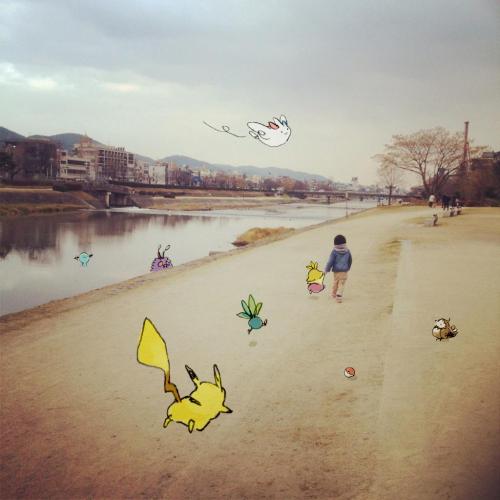 This Gabe Newell interview pretty much echoes the sentiments of my friday post. Feels good to know I'm not quite off.
I've been rewatching Dennou Coil recently. Probably one of the best and least lauded TV/anime series of the 00's. Compare images of people using the Vive and even Google Glass to the Glasses of Dennou Coil. Those are simple, thin and elegant frames with science fiction levels of power and no battery problems. That's not important though. What's important is that they blend into everyday life, unlike those other products.
Also, note that goal of American VR mainly has been to enable ever more realistic and immersive simulations. I would argue that video games by default have an ever-present nature of being immersion breaking, both for practical reasons (HUDs, uncanny valley visuals, bugs) and for design reasons (player choice and the need to be lenient to inherent player-driven logic breaking behaviour).
In the interview, Newell notes on the first time he played Wii Sports
I was like 'Oh my god! There's so much opportunity! There's so much potential here that we're all going to go discover!' Then it turned out that Wii Sports had pretty much nailed it and that was it."
I don't think he is disregarding motion controls completely, else Valve wouldn't be making them.
There is something else though, that Nintendo did with Wii Sports, that Newell isn't crediting them for here:
Wii Sports showed that less is more in new tech.
Could we perhaps try to make VR do less, but make it do it better? What if we just had gaming-glasses that only handled gaming UI (feedback only, no direct input) and left the game itself on a monitor in physical space? This might be a more practical version of Nintendo's second screen concepts in both the Nintendo DS and the Wii U, yet still, the main screen would still provide a more immersive and clear experience.
This hardware would be lighter, and wouldn't need to lock us out of our surroundings. With AR cards or perhaps even a mat, we could perhaps even make introduce some interactivity. I wouldn't mind having the contents of Link's inventory visually in front of me in physical space, as a pile of cute little items on an AR mat, for snappy equipment chances. Players and spectators could even observe different things: By default the screen could show the game's HUD, while the spectacle hardware could mask it away for the player, instead showing it on the AR mat.
True these are mundane and gimmicky examples, but the idea that VR might not necesarily be about achieving the ultimate immersive experience, but rather augmenting the already immersive breaking nature of video games, for a more pleasant pleasant experience, is not so bad, I think.
Indeed, I see this semi-immersion as a more practical and fun way of using both the new steps forward in both VR and AR for traditional gaming experiences.
Illustration by Hoira: http://www.pixiv.net/member_illust.php?mode=medium&illust_id=25594636#=